The home delivery of medically tailored meals (MTM) - an approach called "Food is Medicine" - offers a convenient, healthy, and medically optimized diet for the severely ill. The project team is evaluating the impact of MTM programs on health care expenditures, inpatient hospitalizations, and emergency department visits in severely ill and nutritionally vulnerable adults. Results will inform policy discussions about partnerships between social services and health care organizations, addressing the fundamental causes of adverse health outcomes for the severely ill who are high utilizers of health care.
Photo by Kate McElwee.
Results
Participation in a medically tailored meal (MTM) intervention is associated with fewer subsequent hospitalizations and nursing home admissions – major components of the nation's healthcare budget. MTM participants experienced a 16% reduction in monthly healthcare costs vs. a matched control group.
Outcomes
Health: emergency department visits and inpatient admissions; indicators of disease progression including subcategories related to specific illnesses (e.g., diabetes or cancer); medication adherence
Economic: health care expenditures and chronic disease management outcomes such as meeting process measures
Methodology
Health: emergency department visits and inpatient admissions; indicators of disease progression including subcategories related to specific illnesses (e.g., diabetes or cancer); medication adherence
Economic: health care expenditures and chronic disease management outcomes such as meeting process measures
---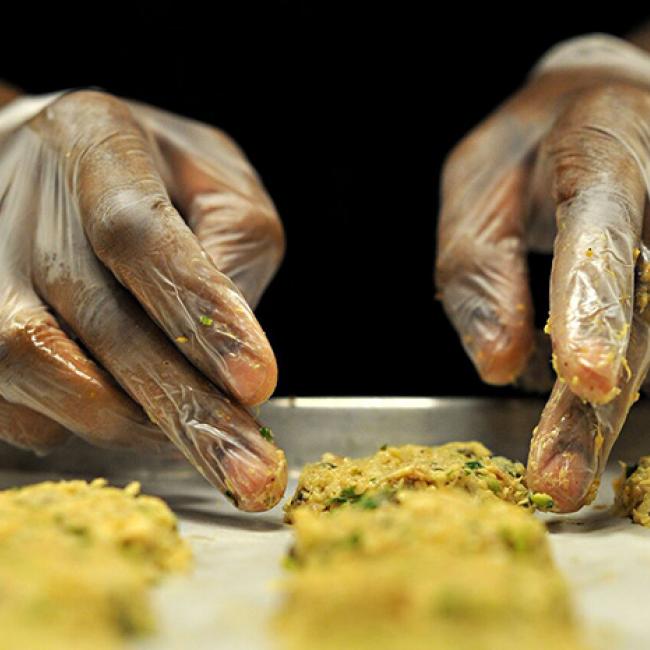 Grantee and Partner organizations
Principal investigators
Jean Terranova, JD
Seth A. Berkowitz, MD, MPH
Kevin C. Cranston, MDiv
Liisa M. Randall, PhD