Project Summary
In October 2020, King County Metro Transit launched a subsidized annual transit pass program to provide transit passes to people with incomes ≤80% of the Federal Poverty Level (FPL) who are also enrolled in qualifying State cash benefit programs. The project team is evaluating the impact of King County's subsidized annual pass program on health and well-being. The team will look specifically at outcomes by race to understand whether the impacts of the subsidized annual pass are racially equitable.
Photo by Ned Ahrens, King County Metro.
Research Question(s)
Does a fully-subsidized transit pass improve the health and well-being of people whose incomes are ≤80% FPL?
Does a fully-subsidized transit pass promote racially equitable outcomes?
Actionability
Provide evidence about the impacts of the subsidized annual pass program that will inform decisions by King County Metro and other regional transit agencies on program renewal, expansion, and adjustments that could make it more efficient and equitable.
Inform decisions by other transit agencies in North America regarding the implementation of income-based subsidized transit fare programs.
Broaden understanding about the effects of transit subsidies. Other studies of transit subsidies have under-emphasized health outcomes and focused on interventions less intense than perpetual and fully-subsidized transit rides.
Outcomes
Health & well-being: Psychological distress, self-reported physical health, and loneliness (via the 12-item Short Form Survey, the Kessler 10-scale, and the Loneliness 5-scale)
Other: Transit usage and transportation mobility
Methodology
The team is using both randomization and a difference-in-differences analysis to understand the health and well-being impacts of the subsidized annual pass. The study will randomly select 1,075 people to receive the subsidized annual pass (ineligible/treated) and an equal size control group (ineligible/control). These individuals are currently ineligible to receive the pass because they are not in qualifying cash-benefits programs, but they have similar income and other characteristics as people who are eligible. To test the generalizability of these findings to people who are eligible and receive the pass (eligible/treated), a concurrent difference-in-difference analysis will compare outcomes for the randomly-selected ineligible/control group to an equal size eligible/treated group.
---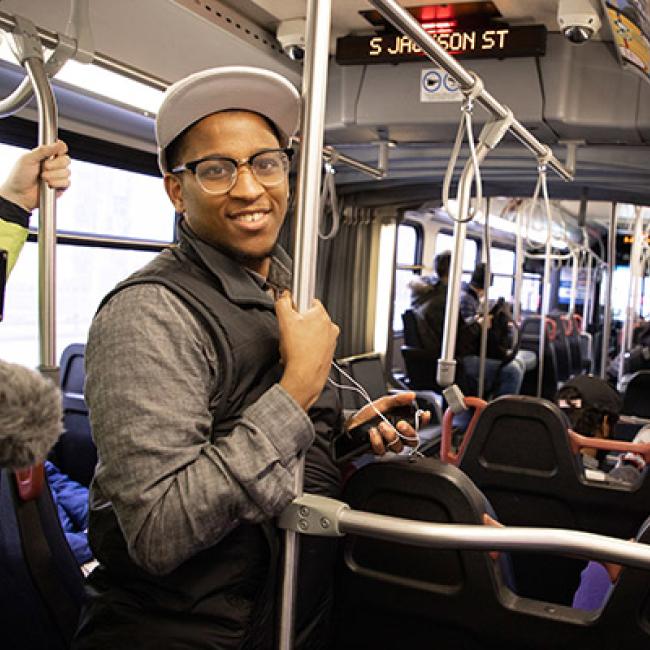 Grantee and Partner organizations
King County Metro
The University of Pennsylvania Perelman School of Medicine
University of Notre Dame's Wilson Sheehan Lab for Economic Opportunities
Principal investigators
Carrie S. Cihak, MA, BA
Atheendar Venkataramani, MD, PhD
David Phillips, PhD, MA, BA