The researchers are examining the effectiveness of a neighborhood blight remediation strategy in New Orleans, Louisiana on Making Health A Shared Value drivers: well-being and health interconnectedness, sense of community and sense of safety, and civic engagement. They are also testing the causal relation between these drivers and family and youth violence, substance use and mental health; and examining the moderating impact of additional neighborhood level buffers (e.g., fewer alcohol outlets, greater green and park space) on blight reduction efforts. Interventions that change the neighborhood environment also bring awareness to the inequities in communities that exist due to both historical and current factors and policies, particularly for people of color. Such awareness-building can set the stage for changing mindsets and larger mobilization and action to build a Culture of Health and reduce inequities. Findings from the study will provide information for neighborhood place-based policy and prevention efforts in residential urban areas.
Outcomes
Health & well-being: Well-being (quality of life), health interconnectedness (perceived interconnectedness and social support for health), family and youth violence (intimate partner violence and child maltreatment), substance use, and mental health (psychological distress)
Other: Sense of community (collective efficacy and the sense of community), sense of safety (perceptions of safety and witnessing violence), and civic engagement (local voting rates and organizational participation)
Methodology
Community-level randomized controlled trial that randomly assigns clusters of lots within neighborhoods to intervention conditions that include lot greening and building/structure treatments. Lot greening consist of three phases: 1) a cleaning phase - removal of all refuse, debris and any overgrowth in designated lots; 2) a preparation phase – preparing soil and adding compost-rich topsoil, and obtaining seeds, trees, and fencing; a planting stage – planting grass, shrubs and trees and placement of a modest post-and-rail fence around the lot; and 3) a maintenance phase – bi-weekly mowing and cleaning during growing season. Building/structure treatments also consist of three phases: 1) a cleaning and preparation phase – removal of any trash or items on (e.g., porch) or around the structure, removal of broken or boarded windows, and preparation for painting; 2) a treatment phase – installing new windows and applying paint where applicable; and 3) a maintenance phase – bi-weekly checks during greening maintenance and replacement of any windows as necessary.
A cohort of approximately 400 residents will be followed for four waves of survey data collection, both pre- and post-treatment.  Community conversations and focus groups with neighborhood residents, as well as key informant interviews with neighborhood leaders are conducted to gain qualitative information and an in-depth understanding of the role of blight and other community characteristics on outcomes.
---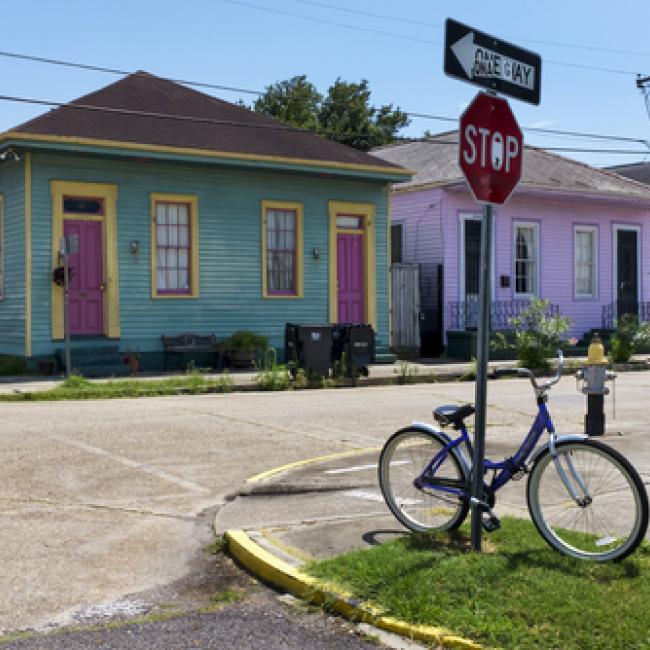 Grantee and Partner organizations
Tulane University School of Public Health and Tropical Medicine, Department of Global Community Health and Behavioral Sciences
Principal investigators
Katherine Theall, PhD, MPH
Lisa Richardson, PhD